No shortage of Galaxy S8 units expected as Samsung preps double the S7's supply
10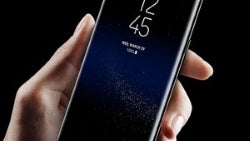 Interviewed by Korean media, Samsung Mobile head executive Koh Dong-jin revealed a strong initial supply is being prepared for the first wave of Galaxy S8 and S8+ sales. Despite rumors of chipset shortages and other production issues caused by the new technology,
Samsung is pushing double the initial supply of last year's
Galaxy S7
and
S7 edge
units, claiming there will be "no issue of supply delay." The initial batch of handsets is estimated at about 20 million, while local market analysts predict sales of over 46 million, similar to the volume pushed by the Galaxy S7. Some analysts, and likely Samsung itself, are shooting for a higher figure, though – more like 60 million.
Korean analyst Park Kang-ho believes that Samsung and Apple already "own" the premium smartphone segment this year, with the Galaxy S8 displaying a strong showing and the next iPhone enjoying quite a bit of hype and intrigue.
"The latecomer's threat is predicted to be insignificant,"
he said, spelling doom for Android manufacturers who chose to delay their flagships and wait for the Snapdragon 835 processor, whose initial supply was gobbled up by Samsung.
Qualcomm definitely put its clients in an uncomfortable position this year by giving Samsung dibs, which hammers home the issue of lacking viable alternatives to its Snapdragon chips. Intel had its AMD, Qualcomm doesn't – apart from China and India, where MediaTek's low-cost chips reign supreme. Having to delay their products because of this puts the likes of HTC and Sony at further disadvantage. Meanwhile, LG cleverly chose to be an "early bird" and enjoy
a brief window of LG G6 sales
before Samsung takes over the premium Android market.
ALSO READ
source:
Korea Herald