No broken Windows XL edition - 5 of the best cases for the Microsoft Lumia 950 XL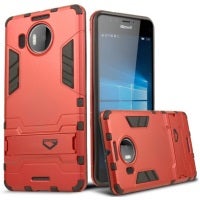 The launch of Windows 10 on mobile saw the birth of two all-new Microsoft handsets — the 5.2-inch Lumia 950 and the 5.7-inch
Lumia 950 XL
. As you are probably well aware if you are into the Microsoft side of mobile things, the 950 XL is a high-end phablet that's, unquestionably, the most powerful Windows smartphone ever released!
With a top-shelf spec sheet and competent camera setup, we reckon the phablet is just a few months of updates away of becoming a truly worthwhile, sensible purchase — not just for Windows lovers, but for everyone who fancies a modern and powerful smartphone with an operating system that's straightforward and feature-rich, even in its current buggy and unreliable state.
If you mustered the courage and plunked down the cash for the Windows 10 phablet anyway, congratulations! But you are also due for buying a case to protect your investment. If you aren't in the mood for a deep venture in the results pages of your favorite search engine, feel free to check out our selection of five fine cases for the
Lumia 950 XL
.
Also read: