Next month we should see iOS 7.1 released; here are some of the changes
16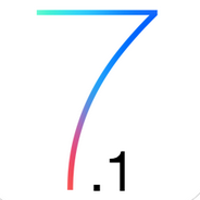 With speculation that iOS
7.1
will be released early next month, a list of new features includes new animation for the "slide to unlock" and "slide to power off" buttons. If the parallax effect on your iPhone's wallpaper is making you hurl, a new setting called "perspective zoom" will disable it immediately after you choose the wallpaper you want. You will also notice a change when scrolling through your messages as a new "bounce" effect has been added.
Coming to the calendar in iOS 7.1 is a new list of events for those who need a quick run down of their upcoming appointments. It is accessible through a tap on an icon to the left of the magnifying glass. A "button shapes" feature inside the Accessibility settings allows those who need help, figure out where on the screen they need to tap or click to get certain features to work. Following the update, adding a number you've just dialed to your contacts list will be as simple as clicking on a circled plus sign to the left of the number. Previously, there was an "Add to Contacts" line under the number.
Of course, the usual bug fixes and performance enhancements will be included.
source:
PCMag
,
MacRumors