NewEgg is offering the unlocked Huawei IDEOS U8150 (T-Mobile Comet) for $150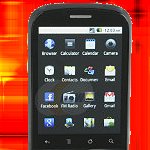 Now that there are a handful of inexpensive Android smartphones that you can purchase with a contract, it makes for a difficult decisions for some to justify a purchase for something that generally hovers close to the high-end category.
Although the
Huawei U8150 IDEOS
, commonly known as the
T-Mobile Comet
stateside, doesn't particularly come off as the best Android offering out there, it still nonetheless provides all the bare Android essentials you find on any other device. Impressively, NewEgg is selling the smartphone for the easy to swallow
no-contract price tag of only $150
– and that's an
unlocked
version!
Come to think about it, the price might be close to some other subsidized high-end devices out there, but you're not going to be tethered to any contract. Moreover, NewEgg is also throwing in free shipping to sweeten the deal. So if you want to go with an entry-level Android smartphone that won't force you into an agreement, you may want to check out NewEgg's special promotion on the Huawei U8150 UDEOS.
source:
NewEgg