New, funny video promotes Samsung's Experience Shops
5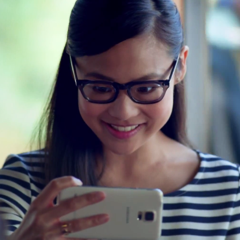 In case you didn't know, as of last year Samsung has
more than 1,400 Experience Shops
across the US, all located in Best Buy stores. To remind us of the benefits that a Samsung Experience Shop can provide, Samsung today released a funny commercial.
Introducing Maggie - a girl that just can't keep her hands off Samsung's newest products, "but she's been going about it all the wrong way" - the commercial obviously concludes that the best place to get your Samsung fix is an Experience Shop. Want to try out the
Galaxy S5
? The
Galaxy Tab S 8.4
, or
Tab S 10.5
? Or perhaps the Android Wear-based
Samsung Gear
Live? All you have to do is enter a Samsung Experience Shop.
Customers visiting select Samsung Experience Shops this week-end (July 26 - 27) can be among the first to watch a
Hunger Games: Mockingjay
trailer on a Galaxy Tab S. If you can't make it this week-end, Samsung and Best Buy are offering a free Hunger Games Movie Pack App if you're buying a Galaxy Tab S starting July 28.
The first Samsung Galaxy Experience Shop was launched in the US in April 2013, a few days before the release of last year's Galaxy S4 flagship smartphone.