New batch of the currently sold-out Firefox OS phones is arriving soon
3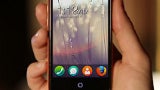 We informed you yesterday that Geeksphone, the manufacturer of the very first phones running the new Firefox OS, has sold out of its initial stock. However, we now have some good news for those who want an FF phone really bad!
The news is that in an interview to Forbes, Geeksphone CEO Javier Aguera has promised that a second batch of Firefox phones is on the way. The online ordering system on Geeksphone's site should go online in the following hours, or at least that is what the company's promising.
Geeksphone's Firefox smartphones, the Keon and Peak, went on sale yesterday morning, but sold out in just a few hours. That doesn't mean that they were a smash hit, though. It's been reported that this initial batch consisted of only 1000 units, most of which were already reserved for Mozilla employees and partners. Geeksphone is said to have produced a total of 10 000 units, but we guess nothing is stopping them from producing more, should there be strong demand.
The Keon and Peak are low-cost smartphones designed for developing markets such as Venezuela, Brazil and some European countries. Firefox OS is expected to become more widely available in the near future.
source:
Geeksphone
via
Neowin