New ad shows that the Samsung Galaxy S II won't leave you in the cold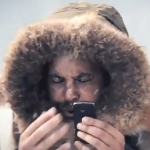 The latest commercial for the Samsung Galaxy S II shows off a feature called "Voice Talk" that will allow users to send a text without using their hands. The ad highlights how handy this feature could be if you are caught in the Antartica or in Green Bay during the NFL playoffs, and you need to pass along the word to your buddy Nanuk that you are stranded.
Before the Samsung Galaxy S II, you would have to struggle with numb, useless fingers. But the handset allows you to open the text application, dictate the message, and send it all by using your voice.
As we have
reported
, the device is set to launch in the U.K. on May 1st. While at the current time there is no word on a U.S. release for the Samsung Galaxy S II, it is expected that the Korean based manufacturer will not leave the States out in the uh...cold.
source:
AndroidCentral