New York Times drops app support for Palm Pre… and BlackBerry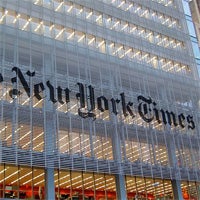 The New York Times has dropped the Palm Pre and BlackBerry handsets from its suite of mobile apps. While it may not be surprising to hear about the
Palm Pre
, loyal BlackBerry owners might be taken by surprise by NYT's decision to no longer allow BlackBerry users to access news stories from their device.
"It's a matter of usage of our apps, and we dedicate our resources where we think there's the highest level of usage," said New York Times spokeswoman Eileen Murphy speaking to Reuters. "We've seen a drop-off."
BlackBerry fans, especially those betting on a comeback with BlackBerry 10, should realize that this isn't a kiss of death for RIM. Murphy did note that this move does not mean they definitely won't bring back the app for BlackBerry 10 devices.
In fact, Sameet Kanade, an analyst with Northern Securities, said he was not surprised by the move to drop current BlackBerry devices, but thinks that the NYT will reintroduce the app to BlackBerry 10 devices.
In the meantime, while the dedicated app no longer works, those affected can still access the Times via their mobile browser.