New Nexus 7 launches in Japan Aug. 28th, LTE model due in mid-September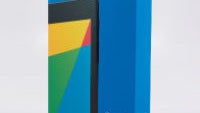 The new Nexus 7 has been out for one month now, but we still don't know when the LTE version of Google's new tablet will be hitting the market in the U.S.. We've heard about the release in other countries, including new word on the Japanese release, but no firm word on the U.S. release.
According to a new report, Japan will be getting the Wi-Fi only model of the tablet this Wednesday, August 28th. The 16GB model will sell for 27,800 yen (~$283), and the 32GB model will cost 33,800 yen (~$344), which is a premium over the U.S. pricing. The report also says that the LTE variant of the new Nexus 7 will launch in Japan in mid-September.
The LTE model will be SIM-unlocked, and will sell for about 40,000 yen (~$407) with 32GB of storage. Maybe we can hope that mid-September will also see the LTE Nexus 7 hitting the U.S., and here it will cost $349.