NYU Poly already looking towards 5G networks
47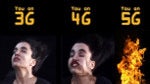 We're still in the middle of the whole 4G debate, where the original definition of 4G has had to be changed because of too much false marketing by big carriers, but that isn't stopping researchers from looking into what 5G mobile networks are going to look like. In fact, researchers at Brooklyn's

Polytechnic Institute of New York University aren't just looking into it, they've received $2 million to make it a reality.
NYU-Poly announced Thursday that it has received an $800,000 grant from the National Science Foundation, and that grant has been matched by $1.2 million from various corporate backers.
Not much is known yet about how it will all work, but the theoretical idea is to use the millimeter-wave spectrum to create a mobile network that is 1,000 times faster than 4G, and can handle 50-100 times more traffic. Of course, these claims don't mention what flavor of "4G" is being used as comparison. The original definition of 4G had been for speeds of 1Gbit/s down and 500 Mbit/s up, but those numbers have been altered to include what T-Mobile, Sprint, AT&T, and Verizon call 4G, which can be far far slower (sometimes close to 100 times slower actually).
The millimeter-wave spectrum would be the key, and it has a couple of benefits. First, it can handle the traffic, and second, it is completely unused right now. So far, it has been
2G which used spectrum up to 200 kHz, 3G which is up to 5 MHz, and 4G up to 40 MHz. The millimeter-wave spectrum is found between 3 and 300 GHz, so it has plenty of room to grow.
Of course, none of this will come to pass any time soon. The research team at NYU-Poly is hoping to have the technology operational by 2020, so we've got another 8 years before we see anything. Still, we're pretty sure that carriers will likely start misusing the term 5G well before then.
Recommended Stories