NEC N900iG – the first device to offer FOMA / tri-mode GSM / UMTS (Europe) roaming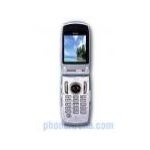 And again PhoneArnea.com brings you first the information about the NEC FOMA N900iG. This will be the first phone to offer FOMA (a tweaked Japanese 3G standard), tri-mode (900/1800/1900) GSM/GPRS and UMTS (Europe) roaming. The phone's manual never mentions directly UMTS (WCDMA) but on the other hand lists the following networks that are supported:
In Japan: FOMA
Out of Japan: 3G, GSM, GRPS
This makes me believe the device will work on the Europe's UMTS 2100 MHz network. The phone's manual is around 605 pages, so to list all its features it will take several pages. To enumerate the main ones:
Internal 240 x 320 TFT display with 65k colors
External 120 x 30 STN display with 4k colors
Dual cameras

External - 1.2 mega pixels with movie mode (176 x 144 pixels); you can save up to 100 movies (depending on the available memory)
Internal QCIF used for video calling

miniSD memory extension slot
Video calling
Bar code reading
Japanese-English, Egnlish-Japanese and Japanese dictionaries
50-voice ringtones
Voice recording
The full specification and features are here.