Mr. Posh Spice does commercial for Samsung GALAXY Note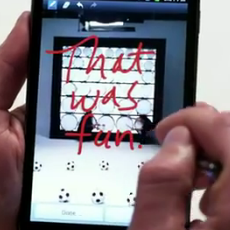 David Beckham's trade to the L.A Galaxy might have brought him a contract worth
$32.5 million over 5 years
, but the international superstar has really done nothing to expand soccer's popularity in the U.S. unlike Pele's acquisition by the New York Cosmos in 1975. Still, Samsung must think that Mr. Beckham can be persuasive. The Korean based manufacturer is featuring Beckham in a new ad for the Samsung GALAXY Note. Watch as the soccer star diagrams his moves using the S Pen.
While we are discussing this ad made by Mr. Beckham, it just occurred to us that the U.S. team he was traded to was the LA Galaxy. That's right,
Galaxy as in GALAXY Note
. Considering the small amount of playing time that Beckham has logged with the West Coast MLS team, perhaps Samsung would have been better off inking the deal to promote the phablet using Beckham's wife, Posh Spice.
via
Phandroid