Mozilla to submit an app to the App Store - possibly Firefox?
This article contains unofficial information.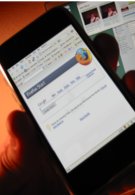 There might be an all out war that soon might play out on your iPhone because mobile Safari might be getting some competition in the coming weeks. Apparently Jon Lily, CEO of Mozilla, has stated "Mozilla will release an app to the iPhone app store in the next few weeks. It'll surprise people." It's no surprise that Firefox is one of the most widely used web browsers on computers with their attention pointing towards mobile devices now. Sure it'll have to compete with Apple's own mobile Safari that's proven to be one of the best mobile web browser available. Interestingly enough, this Mozilla app will integrate a weave feature that'll obtain your browsing history from all your devices and save your preference on Mozilla's server so you can easily access them from any device. Before it becomes a reality, it will require approval from Apple before you start seeing it in the App Store. You never know how this one will play out – think Google Voice.
via
9to5Mac