Mountain, a procedurally-generated "relax 'em up" simulator, lands on iOS
2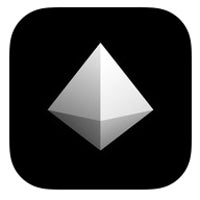 MTN, also known as Mountain, the unusual simulation game that
we told you about a couple of weeks ago
, is now available for iOS devices. Created by David OReilly, one of the lead artists of
Her
, Spike Jonze's award-winning drama, Mountain is one of the most peculiar, yet curious games that we've cоme across. In fact, it will probably be more appropriate to regard it as a "visual experience" and not a regular game.
Mountain procedurally generates your own floating rocky mountaintop and allows you to observe it as it reshapes itself and gets "infected" with life. Additionally, your mountain gets treated to various climate and day/night changes. Before you get to see your alp, however, you are required to answer to a number of rather intimate questions and represent your answers with drawings. Your own mountain will be uniquely shaped in accordance to your drawings, ensuring that the overall experience will be completely different every time you play the game for scratch.
"The drawings influence things like the shape of the mountain, the type of vegetation, the amount of vegetation, the length of your summers, the amount of snow you're going to get, all sorts of different things,"
David OReilly reveals.
According to the developer, players will be treated to approximately 50 hours of procedurally-generated gameplay. Interestingly enough, the game has an ending. We wouldn't jump to conclusions here, but we'd wager that the end of your mountain somehow involves destruction.
You can snatch this tranquil and relaxing game for $0.99. It will probably make its way to Android, but no release dates have been mentioned at the time of writing.
Download: MTN (
iOS
)
via:
Touch Arcade