Motorola's Moto X might finally arrive on August 1st
20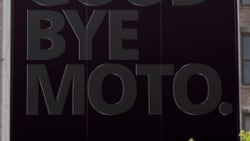 Motorola's long-awaited
Moto X
phone could finally arrive on August 1st if a leaked ad campaign on online design portfolio portal Behance is true. B.A. Bäkken's design studio published a "pitch work for Motorola" bidding farewell to the Motorola we once knew and welcoming the brand new Motorola.
The
date 8.1.13
is underlined all over the ad campaign and while we see no explicit mention of the Motorola X, it's only logical to guess that the reboot for Motorola will start with that long rumored flagship.
The ad pitch raises the bar of expectations up high for
"New Ideas. New Technologies."
and we hope that the Motorola X will deliver. So far, we have seen various leaks about the X phone and if those are true we're in for some good news - this won't be just another super-specced smartphone.
The Motorola X is rumored to feature a 720p display (far from the sharpness of 1080p screens of today), and only a dual-core Snapdragon S4 Pro. That's basically the configuration of a high-end Windows Phone, not an Android phone.
Why is this exciting? Mostly because it means the focus will not be on specs, but on features, probably the camera (rumored to be a 10-megapixel one). Here is the ad pitch for the new Motorola:
We're not good at goodbyes. No one is. They're hard. And sad. But the time has come. After nearly a century of innovation, we must say farewell. Farewell to the first handheld cell phone. To the Razr. To the game snake. Farewell to the Motorola that has shaped today.

It's time to start building tomorrow. Change is afoot. New faces. New ideas. New technologies. The Motorola that returns will not be the company you once knew. But we have some work to do. So until we're ready, we're going away. No new ads or tweets. No site updates. Just silence until we begin the next chapter.

Until we meet again, goodbye Moto.
Recommended Stories