Motorola working on two DEFY-like rugged handsets, planned for Summer 2011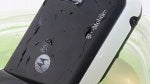 The
Motorola DEFY
has earned a special place in the hearts of many with an active lifestyle simply because it is the only rugged handset that is both tough and smart as in a touchscreen smartphone. But that is set to change as Motorola is working on
two DEFY-like rugged handsets
, which will come out as soon as the
summer of 2011
. While you might still want to consider this a
rumor
, it comes from a proven source – the Russian tech analyst Eldar Murtazin.
The handsets will have
half the price
of Motorola DEFY and still be touch-enabled. And while they will not be fully waterproof, the rugged handsets will still carry the IP54 International Protection code for rugged handsets, which grants them "a degree of
protection
against falling dirt, rain, sleet, snow, and windblown dust; and that [they] will [be] undamaged by external formation of ice on the enclosure". In comparison, the Motorola DEFY carries the IP67 code for a waterproof rugged device.
Murtazin didn't reveal any details about the names of the handsets, but mentioned their visual appeal and their candybar form factor, the same as in the DEFY. And while most of the Motorola DEFY units slated for Europe were plagued by faulty earpiece, we certainly hope that Motorola will pull these two off successfully.
source:
Mobile Review
(translated)