Motorola to ring in new year by spinning off Motorola Mobility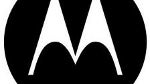 The divorce is now final. Motorola Solutions and Motorola Mobility will be splitting up and going their own way sometime in January 2011. The former will be the company that handles government and corporate wireless networks while the latter will be in charge of manufacturing cell phones and set top boxes. Greg Brown will be the CEO of Solutions while Sanjay Jha has been tapped to lead Mobility.
Brown led the first investment conference for Motorola Solutions today and told analysts that not only does he expect his company to have an investment-grade rating when the firms split, but he is even considering paying a dividend to stock holders. As for Mobility, we have yet to hear what Jha's plans are for the company.
When the original idea for the spin off was discussed two years ago, the idea behind it was to remove what was then considered to be a liability-cell phones-from the rest of Motorola. At the time, the Apple iPhone was a new and breathtaking device and Motorola was stuck with its tired and old Razr line. Even with the amazing success of the Motorola DROID and its subsequent follow-up models, the decision was made to go ahead with the spinoff.
Motorola Mobility has been losing market share to some of its more aggressive rivals, but as more Android smartphones replace basic feature phones on the roster, the company has been able to improve profitability.
source:
electronista
Recommended Stories