Motorola tablets with different form factors coming before year-end
1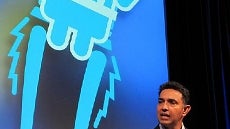 Speaking at Morgan Stanley's Technology, Media & Telecom Conference, Motorola CEO Sanjay Jha promised that the manufacturer will release new tablets with different form factors before the end of the year. He also mentioned that the 7-inch size was "fun and portable", thus causing rumours that Moto will release a 7-inch tablet by year end.
Sanjay Jha also noted that he expects tablets' price to drop in the second half of 2011, as it's said that the components' prices will fall down in this period. Also, we guess that the influx of tablets that's coming soon will also play its part in making these devices cheaper.
The Motorola CEO went on to say that the initial sales of the
Motorola XOOM
"have started relatively well".
The news Moto is to try different form factors for its tabs is a good one for all these people who want to buy a Motorola tablet, but don't like the 10.1-inch Motorola XOOM. Do you plan to buy a 7-inch Motorola tablet if one is eventually released at some point in 2011?
source:
Motorola
via
Engadget