Motorola reports surge in Q3 profits; gains not related to smartphones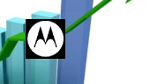 Led by its non-mobile businesses, Motorola reported a very strong increase in profits for the third quarter. For the period, Motorola reported profits of $109 million, or 5 cents a share against last year's figures of $5 million in profits or 1 cent per share (the company had more shares outstanding this year). Revenue rose 12.8% to $4.89 billion. The results do not include the networks business, which will be sold to Nokia-Siemens by year's end.
Early next year, Motorola will split into two businesses with smartphones going under the Motorola Mobility name. Sanjay Jha, the Co-CEO credited with making Motorola relevant in the cell phone industry again, will hold the reins of Mobility. Co-CEO Gregory Brown will be given control over the enterprise mobility arm which includes two-way service for police, fire, business and government and the iDEN network units.
For the quarter, Motorola shipped 3.8 million handsets as revenue rose 20%. The division still spilled red ink in the current quarter despite the popularity of Motorola's DROID X and DROID 2. As we
reported
, on November 11th, Verizon is expected to launch two new Motorola Android models, the Motorola DROID 2 Global and the Motorola DROID Pro. The latter, designed for business with a BlackBerry-esque QWERTY keyboard under the 3.1 inch display, should be priced at a premium $299.99 after rebate and a signed 2 year contract.
With the cell phone business becoming its own company, the pressure is on Motorola to start turning its popularity with Android smartphones into some black ink. Once the spin-off takes place, Motorola Mobility will not be able to rely on any other division to account for company profits.
source:
WSJ