Motorola i290 is SLIM iDEN for Sprint?
This article contains unofficial information.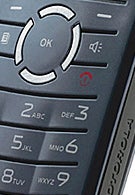 Although Motorola i290 won't be a miracle when it comes to functionality, it will be a rather cool phone, packing most of the PROS of an iDEN phone in a small and SLIM body with pocket-friendly dimensions. The currently available Sprint iDEN phones are all heavy and chunky with stub antennas, while i290 will be the phone for people who want more fashion-appeal in their device.
What we can say about the specifications is that the phone has small but color display, USB and headphone jack on the side (probably miniUSB and 2.5mm stereo) and lacks camera. We will post more information as soon as we have some.
source: Motorola