Motorola Oasis Bluetooth headset allows you to listen to conversations in full fidelity
3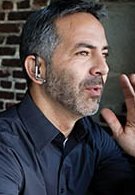 It's been some time since we last saw Motorola push out a Bluetooth headset of their own, which shows their meticulous focus on their handset line, but we're finally starting to see the fruits of their labor with the Motorola Oasis. Although it's not the most inconspicuously designed Bluetooth headset we've seen crafted by the manufacturer, it still manages to be more than functional in offering clear conversations.
In fact, the Oasis is regarded to be one comfortable devices that can be worn on either ear since it comes packed with three different sized ear-gels which will undoubtedly provide for a snug fit. Most of the functions, such as the volume controls and various buttons, can be found hidden behind your ear on the rubber backside of the headset. On the other side, it has the a collapsible metal boom which of course packs the headset's dual microphones which makes it pocketable in size. In addition, you'll be surprised to find an actual voice greeting you to the headset when you first use it and makes the setup process such a breeze for those that don't want to be bothered with lengthy instructions from a manual.
Now for all of those interested in checking out the Motorola Oasis, you'll have the opportunity of purchasing one through AT&T stores for the price of $79.99 with future retailers also expected to sell it as well.
via
Mobileburn