Motorola Mobility acquires 3LM, an Android enterprise security designer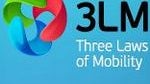 Motorola Mobility
announced today that they have acquired 3LM (Three Laws Mobility). If this were any normal acquisition, it might not be newsworthy, but 3LM is an enterprise security designer, specializing in the Android operating system.
The addition of better enterprise security will strengthen Android's appeal as an enterprise solution, making it even more competitive with the iconic
BlackBerry
operating system.
3LM specifically specializes in providing easy-to-use, cost-efficient security solutions that address the concerns of today's IT professionals. "Along with their technology, the 3LM team brings deep knowledge and expertise in the development of enterprise security features and software for Android," said Christy Wyatt, corporate VP of software and services product management at Motorola Mobility.
While the Android OS has been enjoying
impressive growth
in the consumer smartphone market, RIM's BlackBerry OS remains the standard for enterprise security. The integration of higher-level encryption, and the reputation of 3LM will imbue
Android
with more corporate-friendly potential.
Motorola is of course excited to add 3LM's security to their own devices, but they also plan to offer 3LM's solutions to other device manufacturers. Motorola reports that their device management solutions should be available by Q2 of 2011.
source:
PR Newswire