Android Honeycomb adds an 'Encrypt Tablet' security option
1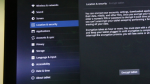 Both
Android
and
iOS
have run into criticism about their security as of late. But Android 3.0 (
Honeycomb
) has added an interesting feature to further secure your personal data. While perusing the Motorola Xoom, Engadget discovered an 'Encrypt Tablet' option, wherein you can secure all your information with a personal PIN.
The process must be a long one, because the prompt tells you to ensure that you have a full battery before beginning the encryption. When they asked the Google representative about the encryption, he clarified that it is a feature of Honeycomb as a whole, not an exclusive to the
Motorola Xoom
.
Unfortunately, he wouldn't elaborate as to the cryptographic standard, so it may not be quite on the
BlackBerry's level
. Regardless, the mere inclusion of encryption bodes well for Android's future as a corporate user's must-have-accessory.
source:
Engadget