Motorola DROID RAZR cracked open to expose the making of an engineering marvel
13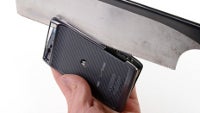 The Motorola DROID RAZR is the thinnest LTE smartphone out there, and the thinnest Android device overall, if we don't count the camera hump. iFixit has disassembled a unit and exposed how has Motorola reclaimed its manufacturing prowess with the
DROID RAZR
.
Since the battery is non-removable, there is no cranny to slide your nail into and pop the cover open, so you have to use something really thin to separate the Kevlar-woven plastic back half. Once in, the battery's sockets are actually connected with contacts, instead of soldered onto the main board, and there is a handy label to pull to take it out, so replacing it is not that hard if you have something thin to crack the case open.
The juicer itself is a thin engineering marvel, allowing the handset to attain this 0.28" (7.1mm) profile, since it is in itself just 0.11", but taller and wider than usual for its generous 1750mAh capacity.
The Qualcomm MDM6600 dual-mode baseband inside is a combined GSM/CDMA module, meaning that this is a
world phone
with up to 14.4Mbps HSDPA download speeds, and the LTE module seems to be of Motorola's own making, the same one that is found in the DROID BIONIC - T6VP0XBG-0001.
To achieve the incredible thinness, yet keep things rigid and dirable, Motorola has used things like a diamond-cut inner metal frame, and the Kevlar-infused back. Also, most all chips in the phones have been crammed on one side of the motherboard, with EMI shields on top of every major emitting part, and a lot of adhesive to keep parts together. iFixit gave the Motorola RAZR a repairability score of 4/10, due to the tightly packaged design that requires certain instruments just to remove the battery.
source:
iFixit