Motorola DROID 2 is now available from Verizon only as a Certified Pre-Owned unit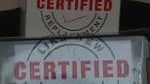 Verizon is playing taps for the plain old Motorola DROID 2. The sequel to the hugely popular Motorola DROID has been surpassed in functionality by the Motorola DROID 2 Global and its 1.2 GHz processor, and surpassed in capabilities by the DROID 2 Global's role as a world phone making and receiving calls in 220 countries.
As a result, Verizon has removed the original Motorola DROID 2 from its line-up of new phones for sale. Big Red will not sell you a new Motorola DROID 2, but it will sell you a Certified Pre-Owned unit (some were used only by little old ladies making calls and browsing the web on the way back and forth to church) for $129.99 with a signed 2-year contract, or for $559.99 off-contract.
The life cycle of a cell phone model has dropped sharply. When Verizon launched the phone in August, it came with Android 2.2 out of the box, an improved QWERTY keyboard and a 1GHz processor. Now, after just a bit over 3 months later, the DROID 2 Global is offered with a faster processor. After just a few months after that launch, early next year, we will be looking at dual-core processing on Motorola handsets available at Verizon, as we
reported
.
No matter what happens in the future, there will always be a soft spot in the hearts and minds of cell phone fans for the Motorola DROID and the DROID 2 as the pair helped the Android OS become what it is today-a major player in the smartphone category and a very relevant challenger to the Apple iPhone.
Thanks Anonymous Tipster!

Verizon is now selling the Motorola DROID 2 only as a Certified Pre-Owned unit