Motorola CLIQ/DEXT takes marathon photo session
This article contains unofficial information.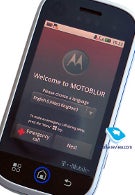 Mobile-review got its hands on a Motorola CLIQ/DEXT and did a "first look" preview of the device. Unfortunately, the model they had would not let them register to sign up for MOTOBLUR and this prevented the social networking UI from being loaded on the phone. With that in mind, what were the positives? Mobile-review praised the design that it said had a "strong youthful appeal". The display was only "decent" while the QWERTY keyboard was comfortable. The CLIQ/DEXT also got high marks for its' 3.5mm audio jack, the 5MP camera with AF, and the number of different connectivity options. While we already noted that the test model lacked MOTOBLUR, the UI still made it on the list of positives because it "sounds promising." Any shortcomings found on the device were offset by the low price (for an Android phone) which Mobile-review said made the phone "a great value for the money."
Motorola CLIQ Specifications
source:
Mobile-review