Moto Z Play Droid is first Moto handset in the U.S. to receive Android 7.1.1 update
3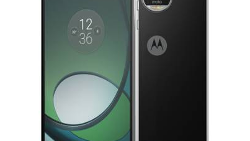 The first Moto handset to be updated to Android 7.1.1. in the states is the (envelope please)
Moto Z Force Droid
. Nope, wait. That was the wrong envelope. Let's try that again. The first Moto handset to be updated to Android 7.1.1 in the U.S. is the
Moto Z Play Droid
(cheers in background along with an ovation). Once the update arrives on your Z Play Droid, make sure that you are connected to a Wi-Fi network or a strong Verizon connection. Also, your battery should be charged to 100% before you begin with the updating process.
According to Motorola, the update includes the following:
Android 7.1.1 Nougat: Many enhancements including new multitasking features, more efficient notification controls and improved data saver and battery features.
Video calling: Duo is a one-to-one video calling app for everyone – designed to be simple, reliable and fun so you never miss a moment.
Android security: Includes the updates of Android security patches until June 1st 2017.
Stability improvements: Includes changes that fix bugs and improve the stability of your phone.
Moto Mods support: Updates the Moto Mods platform to the version 2.0.
There is no word as to when we might see the Android 7.1.1 update for the Moto Z Force Droid and the Moto Z Droid.
Because the update is being sent out OTA, it might be a few days before it shows up on your phone. You can try to manually push it to your handset by going to Settings > System Updates > Check for system update.
source: Motorola via AndroidPolice