More than 75 million smartphones sold in China during Q1
10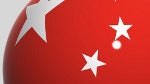 According to stats compiled in the first quarter from DigiTimes,
90.54 million
mobile phones were sold in China during the first quarter of 2013. Sequentially, that was a gain of 23.5%. Year-over-year the gain was 34%. 75.28 million of those purchased units were smartphones. Smartphone sales rose 32.2% from the fourth quarter and year-over-year the gain was an astounding 141.5%.
Samsung
had the largest market share in China among smartphone manufacturers during the first quarter, with a 17.3% slice of the pie. That was followed by four domestic firms. Lenovo was second with a 13.1% marketshare followed by Coolpad (10.3%), Huawei (10.1%) and ZTE (6.9%). Apple took sixth with a 6.4% share.
It seems like it was years ago, but it was only this past January when Apple CEO Tim Cook said that in the near future,
China will become Apple's top market
. For that to happen, Apple will
eventually have to work out a deal with the world's largest carrier
, China Mobile, to carry the Apple iPhone.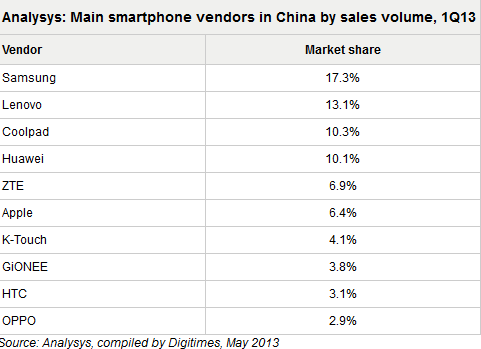 Samsung is the largest smartphone vendor in China
source:
DigiTimes