More than 100,000 apps might be available for the Apple Watch from the get-go
41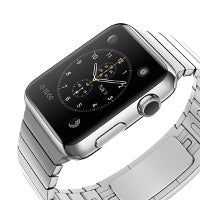 The Apple Watch is expected to be launched sometime in April and information about Apple's first wearable is begging to saturate the air. Just last week rumors about the build materials of the luxurious Apple Watch Edition, the
opulent variation of the wearable
, which is said to boast 18K gold that would cost roughly $900 on the market.
Although it's curious to eye the Edition with pleasure, the regular Apple Watch will certainly score more sales, and the newest piece of info that popped up regarding the device concerns software. It looks that there will be roughly 100,000 apps available for the Apple Watch initially. Of course, this number will most probably grow exponentially after Cupertino's wearable gadgetry.
This alleged number is claimed by Trip Chowdhry, the co-founder of Global Equities Research, which attended six Apple Watch-Kit hackathons and came up with 100,000 apps. Well, the number might seem a little over-exaggerated, but it's too early to say if he's right or wrong.