Apple Watch Edition tipped to flaunt roughly $900 worth of 18K gold
60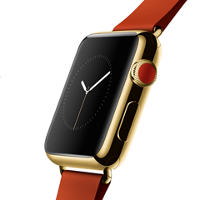 The anticipated Apple Watch is expected sometime this spring (we're not certain exactly when, though), but in-depth information about certain versions of the wearable is already circulating in the air. A recent piece of info about the most exquisite variation of the wearable, the 42mm gold-plated Edition one, claims to reveal how much gold it will come with.
From the looks of it, the luxurious Apple Watch will comprise 1.02oz (29.16gr) of 18-karat gold. As per the current prices of gold, the Apple Watch Edition will come with $853.82 worth of gold. This is an approximate estimation, based on the notion that the average wall thickness of the watch case will be 1.15mm; the additional parts of the watch, such as the crown, the number markers, dials, and other parts of the gadget.
So, if just the watch case costs around $900 to make, how much will the Apple Watch Edition cost, exactly?