More details, renders of Samsung's new smartwatch leak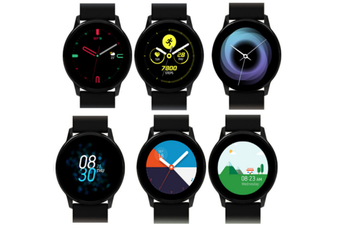 Last week,
we showed you a leaked render of Samsung's new smartwatch
which, depending on the day of the week, is either the Samsung Galaxy Sport or the Samsung Galaxy Active (SM-R500). Today,
SamMobile posted a batch of renders
(via
Android Authority
) confirming previous speculation that users will not navigate the timepiece by turning the outer bezel. There is no outer bezel on this device; trying to turn a bezel that isn't there is akin to removing a contact lens from your eye that has already fallen out. And without a dial to rotate on the watch, swiping and scrolling might be the only modes of navigation.
Other rumored specs include the Exynos 9110 chipset (with a dual core CPU), NFC for Samsung Pay, Bluetooth
4.2
, and Wi-Fi connectivity. The watch will support Bixby Reminders and will be pre-installed with Tizen (version 4.0.0.3).
A leaked image reveals that the smartwatch will have an Activity Tracker that will give wearers a quick peek at the number of steps they've taken, the workouts that they have sweated through, and more. And if the user desires, he can enable a setting that will continuously monitors his heart rate, giving a notification if it runs too high.
We expect to see the Samsung Galaxy Watch Active unveiled along with the new Galaxy S 10 line and the Galaxy Ear Buds on February 20th.