More info on Blackberry 8100 - named Pearl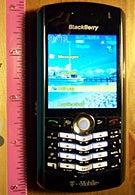 After the first pictures of RIM's 8100 surfaced, along with some general features, only a few days ago, now there's some more info and specs on the device as EngadgetMobile has got got their hands on a "raw" press release. The new GSM/EDGE smartphone will be named Blackberry Pearl and as expected it will be T-Mobile to launch it first – not Cingular. It has a 65k color 240x260 pixel color display and thanks to a built-in light sensor, the screen brightness, as well as the keypad's lighting, will automatically adjust according to the light conditions. It's confirmed the device features a media player for playing audio and video files, 64MB of internal memory and microSD cards slot. However, the camera's resolution is still unknown.
RIM's Blackberry Pearl is expected to be available in T-Mobile retail stores and on the carrier's website from September 18 at a price of $199.
Source: EngadgetMobile