New RIM device - Blackberry 8100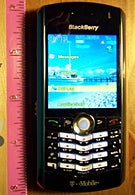 Blackberry 8100 is the RIM device codenamed Stealth seen in a Cingular roadmap. It is a GSM/EDGE handset with SureType keypad and is the first Blackberry to feature a camera and microSD slot for memory expansion. The latter will be particularly useful as RIM has decided to offer a more multimedia-capable device.
The Blackberry 8100 is expected to be available with Cingular sometime in November but it may be T-Mobile to launch it first if we have in mind the T-Mobile branding on the device in the pictures.
Source:
EngadgetMobile