More iPhone 5S internal components leak, same story as always
24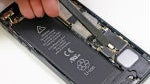 This really shouldn't be a surprise to anyone at this point, but it's looking like the iPhone 5S is going to have new internals. Shocking, right? Every single iPhone with an 'S' on the end has focused on new internals rather than a new external design, but somehow every two years we have to put on a show as if this is amazing breaking news, when really it doesn't matter
that
the iPhone 5S is going to have new internals, we just want to know
what
those internals will be.
The internal components leak comes from TVC-Mall. It shows a "dock connector charging port flex cable," which also houses the headphone jack for the device. There are also images that show a "replacement ringer speaker Dock connector module." Of course, neither of these images give any information that the average user might want, which would be in regards to the processor, GPU, RAM, storage, camera, and display.
TVC-Mall has posted component leaks from Apple devices in the past and has proven to be reliable, so despite the general boring nature of these leaks, they are likely real.