More iPad 5 photos, and the unsurprising news that iPads won't be part of the Sept. 10th event
4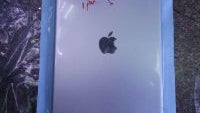 If you (like us) didn't believe
the news
when it first came out, you were right. There was really no reason to believe it originally, but the new word is the same as the old word: the new iPads will not be part of the September 10th Apple event. That said, we have a couple new photos of the device if you are interested.
The news debunking the rumor comes from The Loop's Jim Dalrymple, who is someone who knows Apple. However, there is no real surprise that the iPad won't be part of the September 10th event. Apple has never mixed the announcements for its products. There are always three separate events - iPhone/iPod, iPad, and Mac - and there is really no reason to expect any different this year. And, let's all remember that the new rumor saying otherwise came from a bit that was "buried deep in a Bloomberg article" on an unrelated topic.
But, there is some interesting news to report on the new iPad - we have more pics of the device itself. We've seen leaked pics before, and these don't have much new about them, but they do confirm that the new iPad will have aesthetics similar to the iPad mini with the metal body. And, it also looks like there will not be a flash on the new iPad, despite
hopes
otherwise.