Mophie Juice Pack Powerstation PRO hands-on
2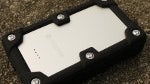 Sure, you can buy one of those
backpacks that incorporate some kind of charging system
to juice up your devices, but if prefer just a standalone unit, the
Mophie Juice Pack Powerstation PRO
might be what you're looking for. Not only does this behemoth pack a
6,000 mAh battery
within its body, but to protect it from the unpredictable environment and the elements, it's
IP65 rated
to meet international standards for
dust and water resistance
.
Almost instantly, it's quite obvious that the Mophie Juice Pack Powerstation PRO is packing along a sizable internal 6,000 mAh battery. Combining a
rubbery outer casing
to cushion its internals, the other component to its construction is the
inner metallic casing
, which so happens to make it splash resistant. Indeed
bulky and weighty
in feel, we're comforted in the fact that this thing can take some punishment – without the worry of it being compromised.
On the front, there are four LEDs that light up accordingly to its charge, which is made known by pressing the button on its left side once – whereas long pressing it, actually activates the charging mechanism. Both the full sized USB and microUSB ports are found on the bottom edge, which are protected by the thick rubbery flaps that hide them. Aside from being able to charge a wide array of device, both smartphones and tablets using the appropriate USB cable, it has a
2.1 Amp high output charging
to quickly get devices juiced up.
Initially, some might view its
$129.95
price a bit of a wallet buster, but when you factor in its ruggedness, quick charging ability, and mammoth 6,000 mAh battery, there's a lot to like about – even more if you require multiple devices to charge. Certainly, it's not every day we find a rugged type battery charging device.