Microsoft's Brandon Watson refutes Eldar Murtazin's claim that Windows Phone 8 won't support current apps
11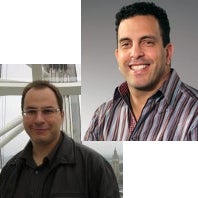 Russian tech blogger Eldar Murtazin (with the glasses on the left) has had a chip on his shoulder regarding Nokia ever since
the Finns sent Russian authorities to reclaim a Nokia N8 prototype
which he was badmouthing in public at the time.
Now this mutual dislike has been transferred over to Windows Phone, where Nokia is poised to become the platform locomotive, and
Murtazin keeps talking smack
of its chances to succeed. Eldar tweeted that the upcoming Windows Phone 8 (Apollo) won't be compatible with the current
60, 000 and counting apps written for Windows Phone
.
This coincides with the rumor that
Microsoft is replacing some kernel parts of Apollo with code taken directly from Windows 8
, aiming to bring the mobile, tablet and desktop experience with Windows closer together.
Brandon Watson
, however, who is the Windows Phone developer lead, felt compelled to react, and
tweeted back to Murtazin
to rewatch the
MIX 11 keynote
, where Microsoft makes abundantly clear that apps written for Mango will be compatible with the future versions as well, which only makes sense.
There you have it - nothing like a Watson-Murtazin spat to kick off this week in petty behavior and unsupported rumors.
via
WMPU