Microsoft may lower the minimum hardware specs for WP, more Mango details coming during MIX 2011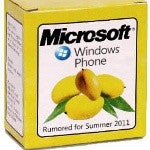 Today is the opening day of MIX 2011, and plenty of rumors are in full swing, suggesting what we are to see and hear in Las Vegas between April 12 and April 14.
Reports claim Microsoft may officially announce it's to relax the minimum hardware requirements it demands from the Windows Phone manufacturers, effectively meaning that we could see low and mid-end handsets powered by Microsoft's mobile OS.
It seems extremely likely that this will happen at some point in the future, as Nokia's CEO Stephen Elop
has confirmed
the Finnish firm is to be allowed to target "a very low price point" for its future WP phones. According to sources familiar with the matter, Microsoft is ready to make this compromise in order to be able to battle with Android for the mid and low-end segment of the market and may make this strategy official during MIX 11.
The exact practical implementations of this alleged shift in Microsoft's Windows Phone strategy are yet unknown, but speculations center around the idea that the affordable WP handsets are to have a 800MHz processors and smaller or lower-resolution screens.
Microsoft won't focus on hardware only during MIX 11, and it's anticipated that the Redmond-based giant will announce some new or updated features for its upcoming
Mango
update, among which are a mobile version of IE9 that will support Silverlight, camera API improvements and full socket support for developers. As of now, it's official that the arrival of Mango will bring multitasking and a browser based on IE9 to Windows Phone, as well as Twitter integration (within the People Hub) and cloud support for Microsoft Office.
Also, it's alleged that Mango may be released as Windows Phone 7.5. While it's officially stated it's to come in late 2011, rumors continue to claim it will be
delayed until 2012
.
source:
WinRumors
via
Electronista