Windows Phone Marketplace hits 60,000 apps
20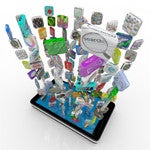 It was only a few weeks ago that
Microsoft hit the 50,000 app milestone
. Only 25 days later, the Windows Phone Marketplace is celebrating the availability of 60,000 apps. Overall, a third of the entire store has been added in the past 90 days.
That says a lot for the growth of Windows Phone. While they still aren't at the level, both quality and quantity wise, of iOS and Android, this steady progress is great news for early Windows Phone 7 adopters that want to see the platform succeed.
The other great news about these apps is that there isn't just garbage, spam apps. There have been quite a few quality apps receiving great feedback in the last 10,000 releases. It has been rumored that all the "top 25 apps" will be released in the first and second quarters of 2012. If that comes to fruition, Windows Phone could find itself in a great position in 2012.
With it taking 40 days to go from 40K to 50K, and just 25 days to go from 50K to 60K, it will be interesting to see if this trend continues, if and how fast Windows Phone Marketplace can catch up to the competition.
source:
Neowin