Elop on Nokia smartphone unit sale: "the rumors are baseless"
3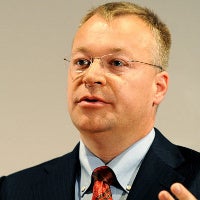 It seems that Stephen Elop is all over CES this year, showing the brand new LTE-equipped 4.3-inch Nokia Lumia 900 running on Windows Phone, but in the meantime he also commented on rumors about
Nokia's smartphone unit getting acquired by Microsoft
.
"As we've described it before, the rumors are baseless, and some people who seem to enjoy generating rumors are running out of fresh material, so it seems to have come up again. I have nothing else to say,"
Elop said in an interview with PCMag.
The
"some people"
in question here most certainly refers to
Russian blogger Eldar Murtazin
who started the acquisition rumor shortly after Nokia announced it's adopting Windows Phone as its main platform. Recently, Murtazin has speculated that Nokia and Microsoft are discussing a deal behind the curtains at CES. The blogger has also theorized that Microsoft is looking to buy only Nokia's smartphone division and not its feature phone business.
To fight those rumors, Elop went further this time and said that because of the synergies Nokia is building between its inner divisions, selling the smartphone division only simply wouldn't make sense. One team is often in charge of a similar service on both feature and smartphones:
"There's significant synergies between the multiple groups within Nokia—for example, on decisions around chipsets, on memory, on different display technologies. We gain scale advantages across the entire portfolio of devices that we have,"
Elop added.
In the interview, the Nokia man-in-chief also confirmed that Nokia is likely to bring
CDMA devices
on Windows Phone, a broader Windows Phone portfolio on carriers and further its collaboration with AT&T. Hit the source link below for the full interview.