Microsoft will discount the Lumia 950 by $150 when you trade in a Lumia 920, 925, or 1020
47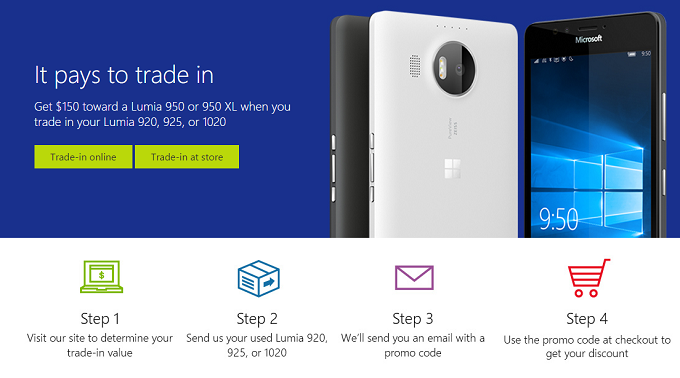 Microsoft has announced a new promotion which will allow Nokia Lumia 920, 925, and Lumia 1020 owners to trade-in their current device in exchange for a $150 discount on Microsoft's Windows 10 Mobile flagships, the Lumia 950 and the Lumia 950 XL.
If you're currently rocking a Nokia Lumia 920, 925, or a Lumia 1020, you're probably a bit disappointed that Microsoft has decided not to update your device to Windows 10 Mobile despite having previously promised to do so. If you find yourself in this situation but you're still determined to remain a Windows Mobile loyalist, then not all hope is lost.
If own one of these three Nokia Lumia devices, then you can head on over to Microsoft's online webstore and click 'Trade-in online'. You'll have to specify which device you're planning to trade in, then answer if you'll also trade in the charger, and then fill the IMEI number of the device. Note that even if you don't trade in the charger, the $150 credit will be maintained. As an alternative, you can head on over to a physical Microsoft Store and trade in your device there.
The $150 trade-in credit is only valid for phones in a working condition. This means that all keys need to function properly, the device should be able to power on, the screen should not be cracked or broken, and the handset should show no signs of liquid damage.
This promotion starts today and will end on June 30, meaning that you have plenty of time to take advantage of it, should you consider it tempting enough. What do you guys think, would you trade in a Lumia 920, 925, or 1020 for $150 in credit towards the unlocked Microsoft Lumia 950 or 950 XL?