Microsoft updates its To-Do beta app for Android
1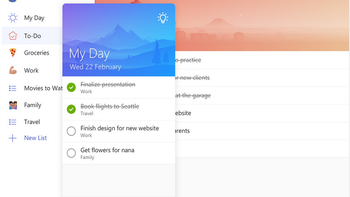 Microsoft has updated its To-Do beta app for Android. Before we get to the new features, suppose we tell you how you can sign up to be a beta tester for the app. Go to the Google Play Store and install Microsoft To-Do. After the app is installed, scroll down to the bottom of the listing page on the Google Play Store, and you'll be asked if you want to be a beta tester. Opt-in, and that's all you need to do.
Keep in mind that testing out new features on the app means that some of the new capabilities could be buggy. But that is the risk you take for being among the first to try out new innovations. Speaking of which, the new update to the Microsoft To-Do beta app for Android includes:
Do not open My Day if list was deleted.
New separator above user created lists.
New emojis in list picker for Android 7+.
Add hashtag support in steps.
Support more emojis as list icons.
Crash opening search on Android 5 is fixed.
Crash creating to-dos if first sync is slow is fixed.
You don't have to be a beta tester for Microsoft To-Do. If you want to install the public version of the app, simply click on the sourcelink below.
source: Microsoft To-Do