Microsoft operating its Free-Time Machine in 3 cities today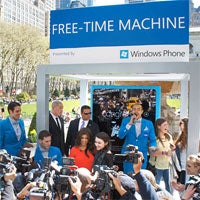 With the Nokia Lumia 900 officially on store shelves, Microsoft is taking to 3 different cities today to promote the handset and help people add a little more time to their day. Microsoft launched FreeTimeMachine.com a few days ago but its exact meaning was a bit of a mystery.
Microsoft has installed Free-Time Machines in Chicago, San Francisco, and New York. They will in operation from 8 AM to 6 PM local time today. Microsoft's blog describes the Free-Time Machines like an ATM, "Only instead of cash, these things spit out prizes that will save you time—stuff like free grocery deliveries, cleaning and dog-walking services, and access to personal concierges. Or the ultimate time-saving tool—a new Windows Phone."
Each location will also feature a special guest. In San Francisco, Vernon Davis of the 49ers will be on hand to give one winner some extra help for the day, Chicago will be treated to Top Chef winner and James Beard Award-nominee Stephanie Izard who will dish out free time and food, and New York will feature reality TV
celebrity
star
personality Kourtney Kardashian who will be providing one "lucky" winner with a day with Kourtney Kardashian that will include access to her hair stylist, makeup artist, car service, and a personal shopper from her clothing boutique, DASH.
If you're in one of the participating cities, head on over to Bryant Park or Madison Square Park in NYC, John Hancock Plaza or Pioneer Court in Chicago, or Union Square in San Francisco sometime before 6 tonight to see what kind of prize you can collect and be sure to let us know in the comments below what you won.
source:
Windows Phone Blog