Microsoft offers more Windows Phone 7 developer events
0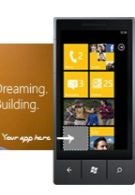 Microsoft is offering two-day events across the US to promote the development of new
Windows Phone 7 applications
. The sessions will be for developers, detailing everything from the new Metro interface to how to effectively market your new app.
Day 1 of each session will begin by teaching you about the fundamentals of developing for Windows Phone 7, including guidelines and their inspiration for the new Metro interface. They will then cover development scenarios with
Silverlight
, Tools, XNA, and the WP7 SDK. Microsoft will then teach you how to market your product.
Day 2 will be a hands-on workshop for app development, in which participants will engage in active development alone or with a group, while having Microsoft's assistance on-hand.
The events will take place in California, Minnesota, Michigan, Illinois, Texas, Pennsylvania, Maryland, Massachusetts, New York, and Georgia, all taking place between September 29th and October 22nd.
For more information, or to register online, visit the 'Microsoft' link below.
source:
Microsoft