Microsoft announces HelpBridge app for contacting friends in cases of emergency
0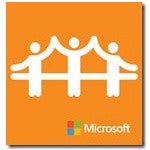 Here's an app that every smartphone owner should have loaded onto their device, although we hope none of them will ever have to use it. It is called HelpBridge and it has just been announced by Microsoft itself. By providing a quick and easy way of contacting friends and loved ones, its goal is to help people out during emergency situations and natural disasters.
The first thing one should do after installing HelpBridge is to make a list of emergency contacts. All of them can be contacted with an "I need help" or "I'm OK" message via SMS, email, Facebook, or any combination of these services. The user is free to add a custom message as well, and his or her location can be displayed on a map in addition to the notification itself. HelpBridge also has an option that lets people donate money or goods to a number of non-profit agencies, such as the American Red Cross, CARE, Global Giving and others.
There are versions of HelpBridge available for all major mobile platforms – Android, iOS, and Windows Phone, and downloading the app is free of charge. Note, however, that the software works only in the United States.