Microsoft OneDrive app for BlackBerry 10 now available from BlackBerry World
2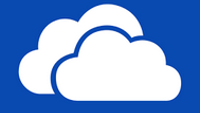 Hey BlackBerry 10 owners, looking to store your files and content in the cloud? Well, now you have your own Microsoft OneDrive app that is waiting for you in BlackBerry World. With Microsoft OneDrive you can arrange to have pictures and videos saved automatically. You can also share important files and documents. The app allows you to edit documents, or comment on them while on the go, an important feature for the business user. And lastly, you can "seamlessly and easily" work with online files on your BlackBerry 10 handset.
Microsoft OneDrive is a free download and
new users will receive 7GB of free storage
. Get 500MB of free storage for every friend you refer, with a maximum of 5GB allowed. Set your device to automatically send photos and videos to OneDrive and you'll receive an additional 3GB of free cloud based storage.
Of course, BlackBerry10 users have other cloud based storage options to choose from, such as Dropbox. But starting today, Microsoft OneDrive is also an option for BlackBerry 10 users with their heads (and files) in the clouds.
source:
MicrosoftOneDrive