Microsoft News Pro brings iOS users "hyper-relevant news" for their work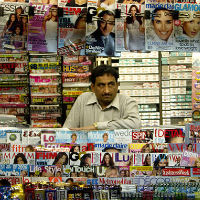 Microsoft's News Pro app was launched on the App Store Tuesday, going against Apple's own News app. What makes this different from Apple News and any other news app? Microsoft calls it "hyper-relevant news for your work." The app calls on Bing to find news that deals with your career, and nothing else.
Users sign in using their LinkedIn or Facebook app, and with their profile, a custom news feed is created. The app is offered by
the same Microsoft Garage development team that created the Mimicking Alarm Clock for Android
. The Microsoft News app is available only in the U.S., although the browser version can be seen anywhere.
Microsoft News Pro will give you a list of top stories and a tab with new topics. It also uses your social media profile to figure out topics and sites that it figures you would want to read. The app is only going to be offered on iOS (no Android, no Windows Phone), although the web version, as we just said above, will work on any browser.
"News Pro helps you search for news around your work every day. Fuel your unique interests with over a million topics to choose from. Get informed efficiently by locating the most important and relevant articles each day based off what interests you. Leverage the power of social networks for your daily news. You can sign-in on Facebook and LinkedIn to tailor your daily news highlights to your work experience and interests."

"Find articles and topics you didn't know you needed. News Pro allows you to extend the scope of your daily news updates by suggesting new topics to search based off your current interests and by helping you discover websites where you can read articles that are interesting to you. You can also search for news related to any topic right in the app so you can always be fully informed."-Microsoft
If you need to know the latest news for the hell of it, there is the Apple News app. If you need to know what is going on for work, there is Microsoft News Pro.
source:
MicrosoftNews