Microsoft Launcher gets massive update with UI improvements, new features
9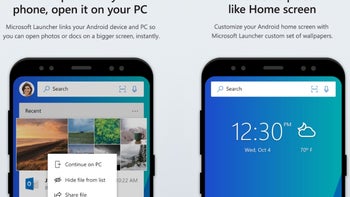 Last month, Microsoft pushed out a major update to its
beta version of the Launcher
, the Android app that's been quite successful since its release. If you've already read about it in our previous post and still remember it, then you'll be quite familiar with the improvements included in the latest update.
Just to be clear, if you're using the beta version of
Microsoft Launcher
, then you already benefit from all the new features and improvements released for the stable channel. If not, here is what you get in the latest version of Microsoft Launcher:
Family: parents can show/hide kids in the Family card;
Improvements to reading news articles with Microsoft Edge browser;
Toggle to hide page indicator on home screen;
Cortana: supports multi-turn SMS + calling;
UI improvements: welcome page, settings page, widgets & context menu;
Support for removing screens in overview mode via drag & drop.
In case you've already updated your
Microsoft Launcher
, at least you now know what to look for and where to find these new features. Microsoft is regularly updating the Launcher, so expect even more important improvements in the not so distant future.