Microsoft Launcher soon to get Visual Search feature, Microsoft Rewards support
1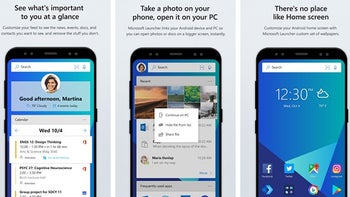 Microsoft plans to add a few new features to its Android launcher in the not so distant future. For the time being, these improvements are available in the beta version of
Microsoft Launcher
, so if you're using it, you can already try them out.
But if you don't, here is what we expect from the next Microsoft Launcher update. As the title says, Visual Search is a new feature that takes advantage of the phone's camera to capture images and intelligently recognize celebrities, landmarks, items, apparel and more. Microsoft Launcher users will be able to fire up the new feature through the Launcher Search bar, as soon as the next update adds it.
Microsoft Rewards
is another improvement that's likely to be implemented in the next update. It will allow Rewards consumers to see their balance in the Launcher Feed and earn points for using Bing Search via Microsoft Launcher.
Last but not least,
Microsoft Launcher will become family-friendly
, which means the parents using the app will be able to view the last known location and activity report for their children across their Android smartphone, Windows PC, and Xbox console.
All three new features are likely to come to Microsoft Launcher with the next update, which might be released as early as next week.