Microsoft launches Bing Spotlight in the United States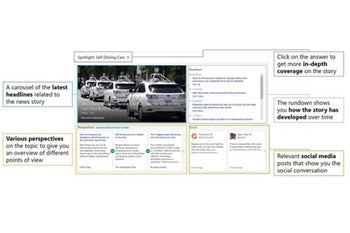 Bing is getting even more improvements in the United States, the main market for Microsoft's search service. A brand new feature called Spotlight is now available to both
Bing users
on mobile web and desktop.
Bing
will now show different viewpoints from the best news sources.
Microsoft also revealed that Bing looks at various user signals such as queries and browser logs, and document signals from publishers to offer all the meaningful stories to users. For example,
Bing
will look at how many publishers cover a story, their angles, and how prominently they feature the story on their site and compares them in order to spotlight those that seem more important.
This is possible due to the deep learning algorithms and web graphs of hundreds of millions of web sites in the Bing index that allows it to identify top sources for national news, per category, query, or article. Sad that it's only available in the United States.